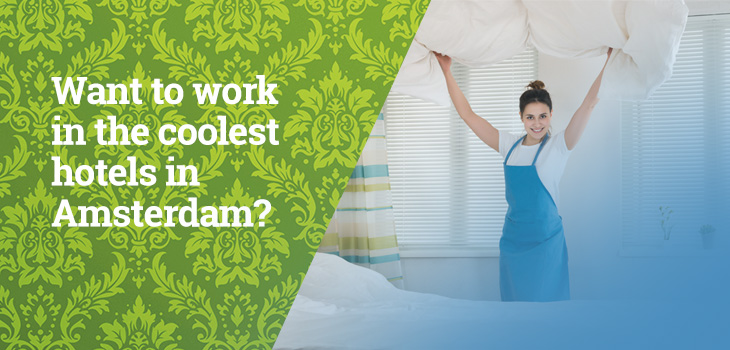 Vacancy for room attendant
Check in Cleaning is an innovative service provider, aimed to provide facility services exclusively to some of the best hotels in Amsterdam and the surrounding area. We offer our clients a reliable housekeeping service. Placing the right person on the right position is one of our core values, making our team fit for every job.
Your job
As a room attendant you are responsible for maintenance of hotel rooms. You'll be cleaning rooms on your own according to set standards as a part of a motivated team of attendants. This job requires no obligatory experience. We will teach you everything there is to know about cleaning.
Tasks
Making beds
Cleaning furniture and bathroom
Dust off surfaces, vacuuming and mopping
Topping up supplies in rooms
Your profile
You are flexible when it comes to working days, including the weekends
You are able to work hard and independent
You master either Dutch or English
You live in or in the proximity of Amsterdam
We offer
A good salary based on the Dutch collective employment agreement;
Vacation days: you have 26 days off per year based on full-time employment. Vacation days for part-timers are calculated pro rata, which comes down to 10% of the total hours worked;
End-of-year allowance: if you have been employed for more than six months, you will receive an end-of-year allowance of 2,85% based on your gross salary;
A comfy and fun working environment
An environment where you also matter
To arrange on your own
There are a few things you will need to arrange on your own if you want to work for us.
A place to live within a radius of 30 kilometers from Amsterdam
A valid Dutch working permit (only for none-European citizens)
A working phone. For none-European citizens we prefer a Dutch or European phone number.
Apply for this job
Apply for the vacancy of room attendant using the contact form below. Please do not forget to upload your resume including photo.