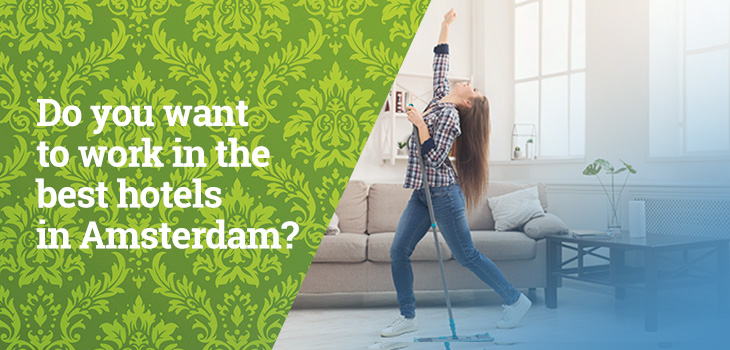 Vacancies for other departments
Check in Cleaning is an innovative service provider, aimed to provide facility services exclusively to some of the best hotels in Amsterdam and the surrounding area. We offer our clients a reliable housekeeping service. Placing the right person on the right position is one of our core values, making our team fit for every job.
Please use the contact form below to apply for a job in the category other departments. Also see an extended job descriptions and application forms for a job as room attendant, supervisor or housekeeping manager.
We offer
Housekeeping management using our sophisticated Gotickin app
Appreciation for your efforts including a proper salary
A team with room for your personal vision and ambitions
30 Up to 38 working hours a week on an employment contract
Education based on your ambition
Modern working equipment and tools at your disposal
A good salary based on your experience and conform the Dutch collective employment agreement
Compensation on your phone bill for work-related usage
Vacation days: you have 26 days off per year based on full-time employment. Vacation days for part-timers are calculated pro rata, which comes down to 10% of the total hours worked
End-of-year allowance: if you have been employed for more than six months, you will receive an end-of-year allowance of 2,85% based on your gross salary
To arrange on your own
There are a few things you will need to arrange on your own if you want to work for us.
A place to live within a radius of 30 kilometers from Amsterdam
A valid Dutch working permit (only for none-European citizens)
A working phone. For none-European citizens we prefer a Dutch or European phone number.